EXHIBITIONS
RECENT EXHIBITIONS
I really enjoy displaying my work in exhibitions. I find that visitors to my exhibitions confirm that seeing the photographs in "real life" is even better than viewing them on a computer screen.
2017 EXHIBITIONS
For the first time I'm exhibiting at The Quay Gallery during the Aldeburgh Food and Drink Festival as a Fringe Event. The exhibition, "Yum! A Feast for the Eyes" is open 22-28 September which includes the Festival on 23-24 September. The gallery is in an ideal position on the edge of the Snape Maltings complex, overlooking the River Alde. I am so looking forward to being part of it.
The exhibition will include new works as well as some old favourites. I look forward to meeting you there!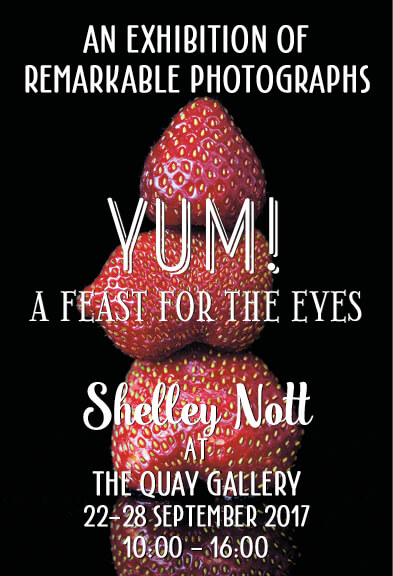 In early 2017 I was excited to be asked by David Keleel to create an exhibition my flower photographs at the lovely Darsham Nurseries and Café.
Mixing some existing photographs with newly created works, they look very much at home in the shop and café. As always, I use natural light to enhance the beauty of the blooms and photograph them in two very distinct styles. One is firmly rooted in the Dutch masters, while the other offers a simpler, more modern close up view of the flowers.
Running from 6 July to 1 August it is a new excursion for me and I'm thrilled with the result!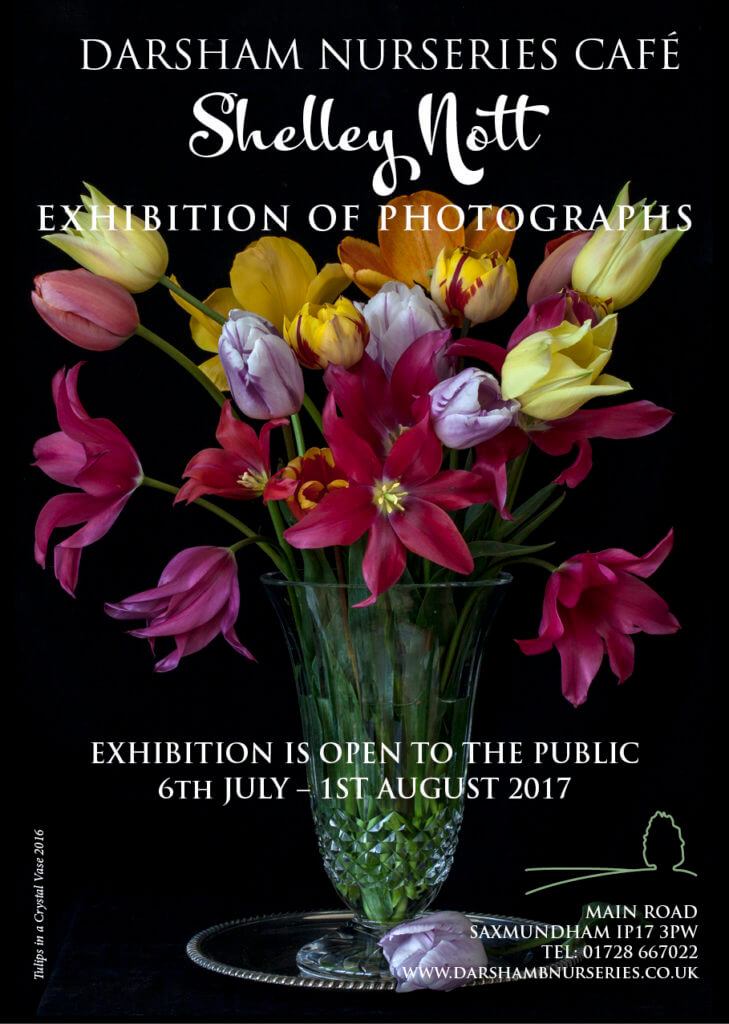 2016 EXHIBITION
In 2016 I was delighted to be back at The Aldeburgh Gallery with my exhibition of Still Lifes. Entitled "Still Life and the Art of Slow Photography" it featured a mixture of traditional and modern takes on the genre of Still Life. Most of my photographs take many hours to compose and take but one of the exhibits took over 15 months to complete!
Nature's colours and textures are revealed as the focal point of my images. Drawing influences from the Dutch masters, re-interpretations and re-inventions of this style of work were evident. At the opposite end of the scale I showed, for the first time, a range of abstract images too. Running from 19 to 25 May 2016 it was a hugely successful show with many photographs travelling the world.
You will find a number of the exhibits in the Fine Art Photography section of this web site. Don't forget to also look at the image in the Slow Photography page which is an homage to the 17th century art of flower painting.