Whilst most of Shelley's Fine Art photographs take many hours to construct with careful use of natural light, this image has taken the longest to create.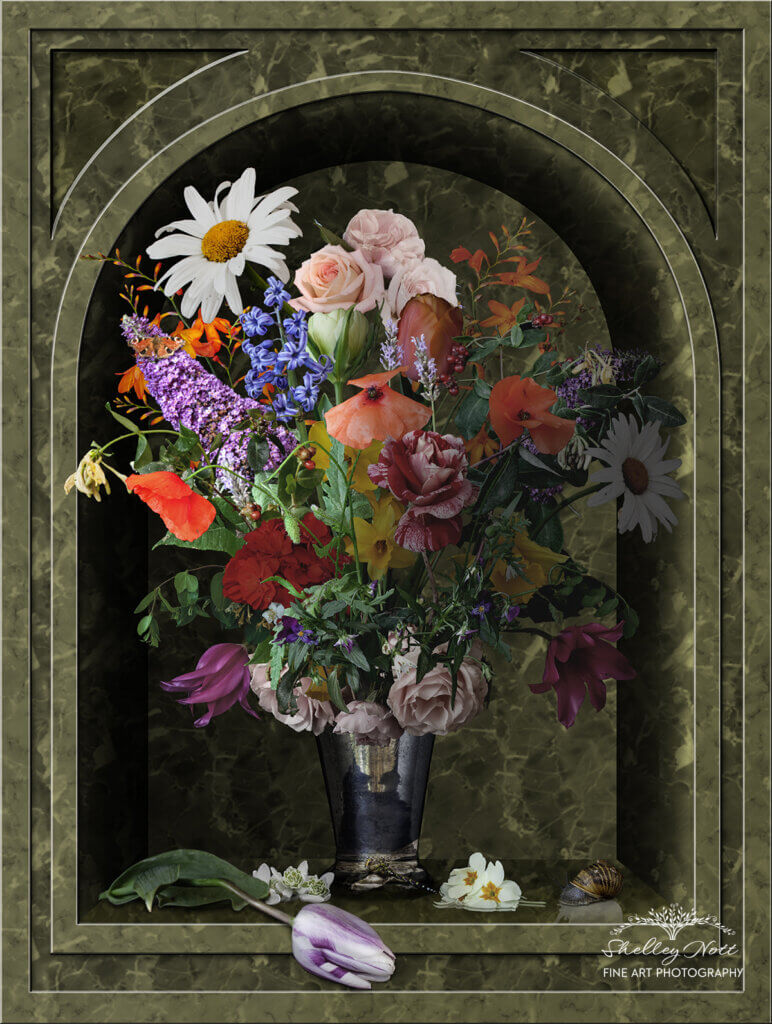 Flowers in a Silver Vase
In the 17th Century the Dutch Masters painted spectacular floral arrangements, which would include flowers that were never in season at the same time. It necessitated a painstaking process of creating small studies of the flowers as they bloomed with the final composition being painted when all these had been completed. Ambrosius Bosschaert the Elder (1573-1621) was a supreme exponent of this style of painting, with elaborate arrangements often being painted on copper.
This picture is an homage to Bosschaert.
This image took more than 24 months to come to fruition. Each component was photographed independently, starting with the snowdrops in February 2015 and ending with the snail in May 2016. The photograph of each flower was then placed in the arrangement creating a bouquet, which could never actually exist in reality. Every photograph was planned in great detail ensuring the size of each flower was accurate in relation to the others and the vase that held it. 54 layers have been used to create the final image, with each element requiring many hours' work. The multiple shoots and the extensive editing resulted in over 180 hours being dedicated to this one piece so far.
The last printed version was on Aluminium Dibond with archival quality ink. The version shown here has yet to be printed. © Shelley Nott 2021