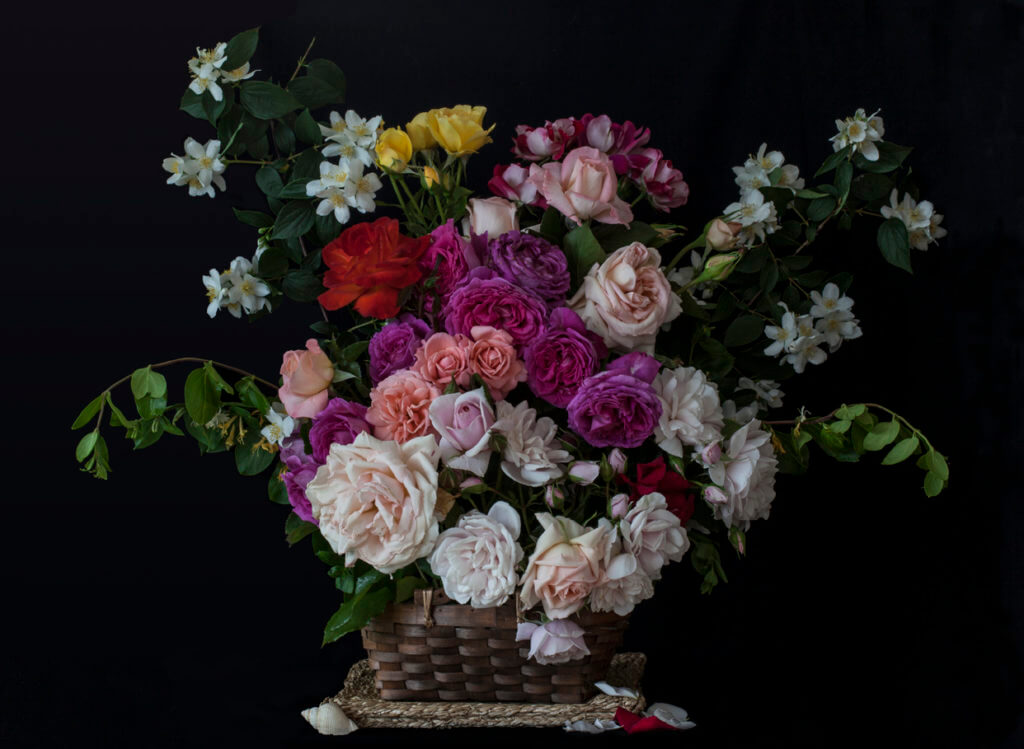 Influenced by the Dutch artist Rachel Ruysch this basket of roses follows her style of creating triangles.
Shelley finds influences for her Flower Pieces Fine Art photographs in many places. From the Dutch Masters of the 17th and 18th centuries, to Pierre-Joseph Redouté (1746-1800) and Georgia O'Keeffe (1887-1986). Also, her fascination with the complex forms a flower can have is teased out in her close up portraits.
Developing her ideas all the time she is also creating modern interpretations of the floral still life. She has paired these back to produce a lighter photograph but still working with elements that add symbolism. Also, she is creating a collection of contemplative photographs based on the seven yoga chakras.
She creates her photographs by using natural light, something that comes from her original influences adding a natural feel to the textures and colours.
She is a great believer in slow photography. She painstakingly creates each photograph over many hours until the balance is just right and the lighting enhances every part of the image.
Here is a selection of her recent Flower Pieces Fine Art photographs, a number of which formed the basis of her exhibitions. Please see the Exhibitions page for the latest news of her shows.
Please use the Contact form should you wish to purchase any of Shelley's work. All her photographs are available at very limited edition prints, produced on museum quality cotton rag paper using archival quality inks and framed in simple aluminium frames. They can also be supplied on aluminium or acrylic.