Recently I had a rather fulfilling experience in Great Yarmouth and I don't think I've ever said that before! A collector of my work told me about the tour that a very important painting was making around the country courtesy of The National Gallery and suggested us meeting up to see it together. Flowers in a Terracotta Vase by Jan van Huysum (1682-1749) is currently travelling and being displayed in unusual places – not the normal galleries or museums that one would expect to be the "right" place for an eighteenth century work of art.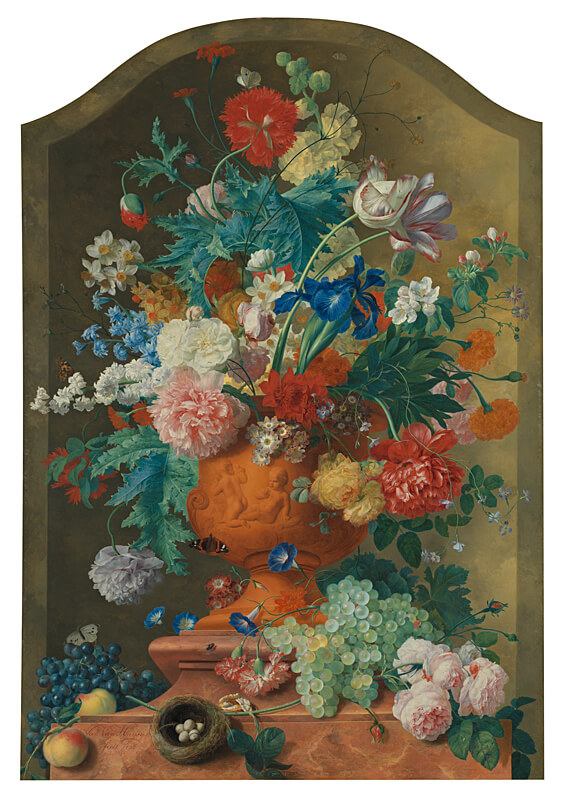 Its first stop (and where I saw it) was PRIMEYARC, a community art space that was formerly Debenhams in a shopping centre in Great Yarmouth. Since then it has been shown in a number of similarly different venues.
The idea behind the project is to help those most affected by COVID-19 and the lockdowns. It is hoped that by placing the painting where such well-known art is not usually seen, it will bring delight to anyone who can enjoy it. The National Gallery is working with those hosting it to create workshops and other activities to help bring a better feeling of wellbeing to those in the area. So this is why I had the unusual experience of standing in front of one of the finest examples of its kind in a converted shop in Great Yarmouth.
This remarkable painting demonstrates the skill of the Dutch Master, Jan van Huysum, who was a phenomenally successful artist in the 18th century and was particularly known for his flower pieces. Like so many of those produced in the 17th and 18th centuries, this fabulous arrangement is an impossibility. You will see blooms from across the seasons that would never have been possible to collect into one vase. Many artists, such as van Huysum, would make studies of these flowers through the year and then create the final piece by painting them into place (the original "copy and paste"?). There are 36 different flowers here plus fruits, nuts and insects. He took more than a year to complete the piece, hence the date at the bottom – 1736 and 1737. The canvas is very large (133.5 x 91.5cm) and I had the added bonus of being able to study it in minute detail with no one in the way.
This masterpiece is a superb example of its kind. It is meant to be seen from below so it was probably originally installed above a large fireplace or similar, because of this see the underneath of the vase with the flowers tumbling towards us. There are flowers from summer including poppies, roses and hollyhocks combined with daffodils, hyacinths and tulips from the spring. At the base are grapes representing autumn with peaches from high summer.
Everything is there for a reason, with symbolism woven through it, including the insects that populate the arrangement. Butterflies have been long associated with transformation (the white one also symbolising purity while the red admirals evoking the darkness and fire of hell); while the bluebottle fly is often thought to represent negative thoughts as they can be seen as a persistent nuisance. The flowers have their own stories: the poppies are associated with night and sleep so are associated with oblivion and ignorance, particularly when facing away; Roses have symbolised all kinds of love since ancient times; hollyhocks were thought to have medicinal properties and are often associated with redemption. Narcissus (daffodils) as harbingers of spring has been associated with the Resurrection of Christ; Hyacinths were said to symbolise faith; and by the time this piece was painted tulips were considered to be linked to transient beauty and luxury because of the prices they commanded. Although this was painted after the "tulip-mania" period (when a bulb could cost as much as a house), they were still considered exotic.
Just looking deeply into this painting creates a sense of wellbeing. Analysing what you are looking at is a great way to use a part of your brain you may not have exercised for a while. Like so many of these types of paintings, it is beautiful, but it is so much more than this. It's a window onto the world of 18th century Dutch elegance and opulence and it is one of the inspirations for my Flowers in a Silver Vase which I started some years ago and on which I continue to work.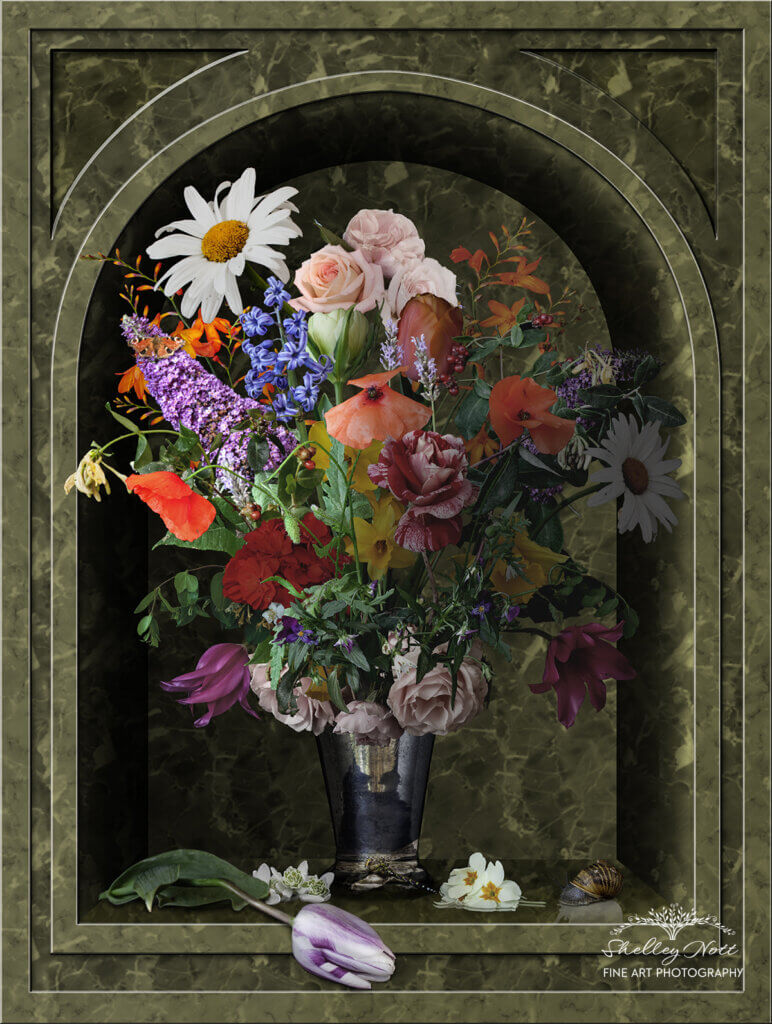 My original influence for this piece was the earlier Master, Ambrosius Bosschaert the Elder (1573-1621) and like him I studied flowers throughout the year, but instead of making sketches, I photographed them.
Over a period of 15 months each component was photographed independently, starting with the snowdrops in February 2015 and ending with a snail in May the following year. Every photograph was planned in great detail ensuring the size of each flower was accurate in relation to the others and the vase that held it.
More than 180 hours have been dedicated to this one piece so far. Will I ever be happy with the final result? Who knows? But it absorbs me when I need to remove myself from the world around me. When I have exhibited Flowers in a Silver Vase in its various guises it has always commanded great interest – just as Flowers in a Terracotta Vase has done for nearly 300 years.
To find out more about the tour of Flowers in a Terracotta Vase, please visit https://www.nationalgallery.org.uk/whats-on/jan-van-huysum-visits.
To see the current version of my Flowers in a Silver Vase please visit: https://www.shelleynott.co.uk/slow-photography/